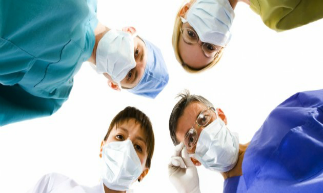 A Riverside jury has awarded an Arizona couple $16.5 million in a medical malpractice lawsuit against a Southern California neurosurgeon.
In Riverside Superior Court on Friday, jurors found Christopher Pham negligent in his treatment of Trent Hughes in 2003. They were unanimous on all counts except for one, for which one juror said the court should have awarded more money.
Hughes, according to his attorneys, was jolted while off-roading in Arizona on Nov. 2, 2003, and felt a searing pain in his lower back and a "slight tingling" in his feet. He was airlifted to the Desert Regional Medical Center in Palm Springs.
Hughes' lawyers argued that Pham, the neurosurgeon on call, was required to report to the hospital within 20 minutes. Instead, the doctor did not examine Hughes until the next day and did not operate on him until Nov. 4. By that time, they argued, the damage was done, leaving the former owner of a Phoenix air-conditioning company a paraplegic.
The attorneys also said in court that Pham had planted documents that made it appear as if he were at the hospital when he was not.
"It appeared to be one lie after another in an effort to cover his tracks," said David Bricker, one of the attorneys representing Trent and Lisa Hughes.
The couple settled with the hospital two years earlier.
Burt Rosenblatt, co-counsel for Hughes, noted that in spite of the multimillion-dollar verdict, a portion of the jury award totaling $3.75 million would be reduced to $500,000 due to California law limiting the amounts awarded in malpractice lawsuits.
"The law is very outdated and very unfair to plaintiffs who have legitimate claims and legitimate rights to be compensated," Rosenblatt said. "At least some money will now be available for Mr. and Mrs. Hughes to make their lives a little easier."

Amina Khan
Los Angeles Times